Sustainability: The future of investing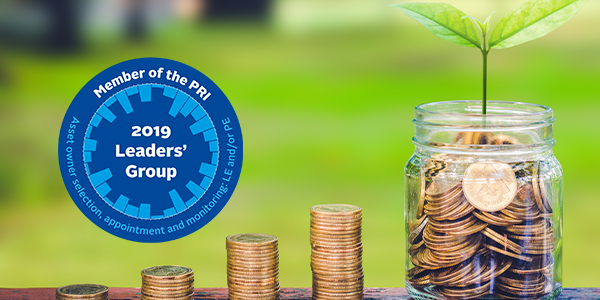 In 2019, Vision Super's approach to responsible investment was recognised by a number of leading organisations in the field.
PRI Leaders' Group
Vision Super was one of just six Australian super funds (out of a total of 206 industry, retail, public sector and corporate super funds) to be included in the 2019 PRI Leaders' Group. The 2019 PRI Leaders' Group showcases signatories to the UN's Principles of Responsible Investment that demonstrate excellence in responsible investment broadly, and in selecting, appointing and monitoring external managers. The Leaders' Group includes only around 10% of all investor signatories globally. Vision Super is very proud that our responsible investment approach has been recognised, and that we are one of the funds being showcased by the PRI to raise standards of responsible investment among other PRI signatories, and the broader investment industry.
Vision Super rated A+ across 9/10 categories
Vision Super documents our responsible investment activities each year as part of our PRI reporting.
Our PRI Reporting Framework assessment results for 2019 were outstanding – we scored an A+ across 9 out the 10 reporting categories, including the strategy and governance module. Our only non-A+ was an A score for the listed equity active ownership module – which was still an outstanding result, well above the median score of our peers. In fact, we outperformed the average scores of all PRI signatories across all asset classes!
SuperRatings Infinity Rating
Vision Super received a SuperRatings' Infinity Rating for environmental and social responsibilities for 2020. This was the 11th time that we have received a SuperRatings' Infinity Rating. The Infinity Rating recognises Vision Super as leading the industry in sustainable behaviour with genuine responsible investment principles, openly communicating with fund members and having sound internal sustainability practices underpinning our responsible investment practices.
ACCR proxy voting report
The Australasian Centre for Corporate Responsibility (ACCR) released a study of the proxy voting records of Australia's largest super funds in May last year. Of the 50 largest Australian super funds, Vision Super was rated number two in the country, supporting 88% of the shareholder proposals on ESG issues that we voted on in 2018. We were also listed as one of only five funds that disclose voting records less than a week after the company meeting.
If you'd like to find out more about Vision Super's sustainable investing, read the full article, including additional information for each section.